Restaurant Supervisor Wanted
Maintenance Person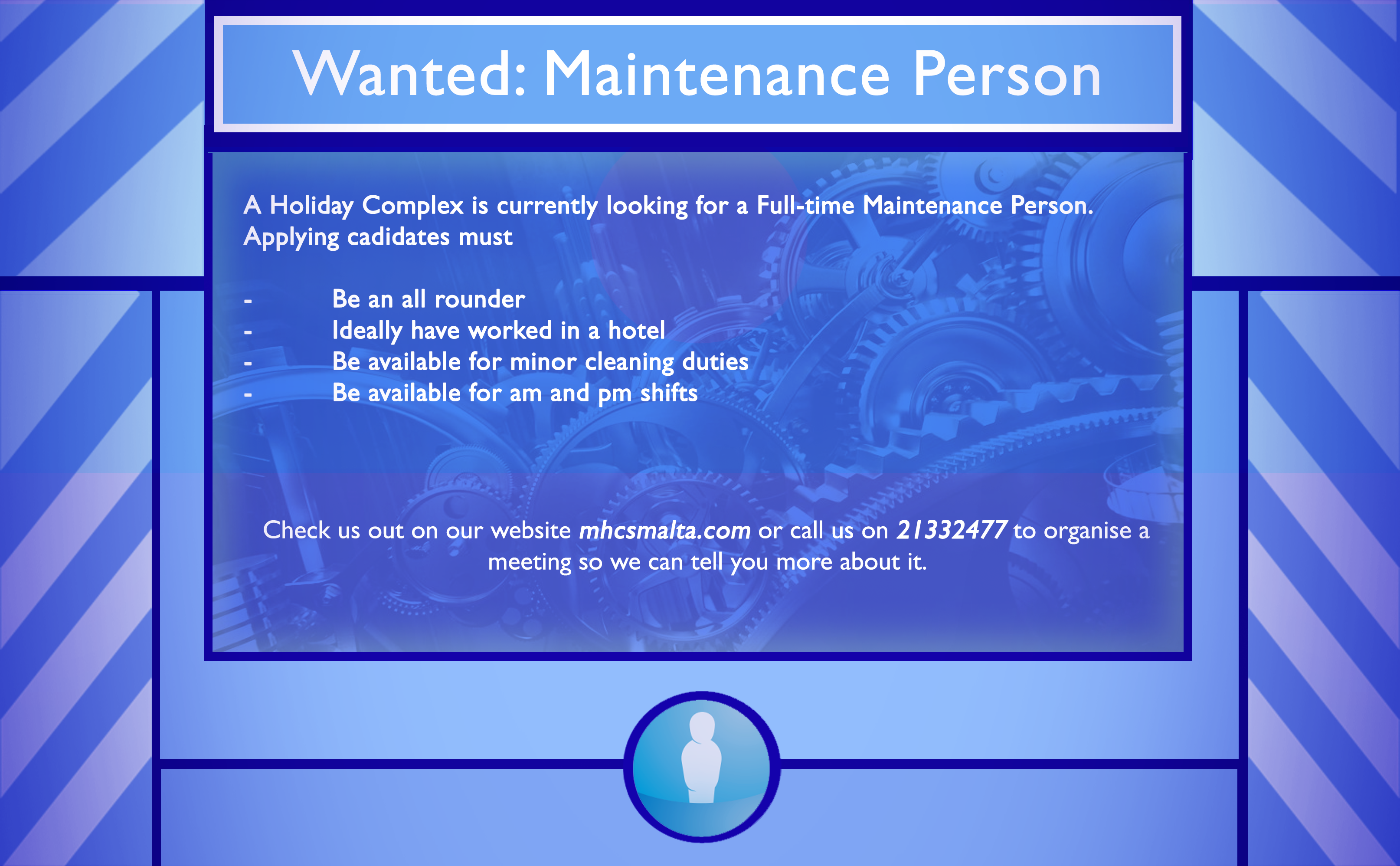 Sales Manager Wanted
Position Title:  Sales Manager
Reports To: Board of Director
Position Summary:
One of our clients is looking to recruit a sales manager
As a Sales manager you will be expected to develop and foster business through pro-active direct sales, marketing, telemarketing, direct mail, appointment calls and tours of the Restaurant. Also develop strategic action plans for Restaurants to drive measurable, incremental sales revenue.
Identify areas of opportunity in performance and recommend tools and sales training to optimize performance of sales team. Additionally work with individual Restaurant teams to identify skill development areas and properly deploy sales and marketing resources.
Solicit Future conference business for Restaurants in assigned market areas. Maintain and exceed sales targets defined by the management. Also able to work under pressure, meet deadlines and achieve daily targets, whilst offering a very high level of Customer Service.
Additionally Work directly with key decisions makers from Corporate, negotiating rates and confirming their accommodation, meetings and events.
Prerequisites:
Proven success in a similar role and environment.
Empathy towards your customers and colleagues.
Pride and attention to detail.
Polished personal presentation with Warm, confident and hospitable personality.
Education:
3 year degree from an accredited university in Business Administration, Marketing or Restaurant Management accreditation.
Experience:
3 to 4 years' experience in the sales and marketing or related professional area.
If interested kindly send your cv with confidentiality to [email protected] by not later than 31.10.19 quoting ref BAC1
Executive Housekeeper Wanted
A new 4 star hotel in the Sliema area is looking to recruit the following personal:
Executive Housekeeper:
The ideal candidate should :
Establish and/or implement operating procedures and standards
Plan and coordinate the activities of housekeeping supervisors and their crew
Coordinate inspection or inspect assigned areas to ensure standards are met
Apply human resource management skills, such as hiring, training, scheduling and evaluating performance
Complete financial management tasks, such as setting and adhering to a budget
Handle administrative tasks
Knowledge, Skills and Abilities:
Professional attitude
Previous experience working in housekeeping is required
Previous supervisor or manager experience is an asset
Human resource management skills such as recruitment and training
Good customer service skills
Purchasing and inventory skills is an asset
Chef Wanted
Our client is looking to employ a chef to take care of a medium kitchen that caters for about 70 covers in the Zurrieq area. The ideal candidate should be able to work on his/her own initiative and have own transport. During the week the restaurant operates only during the day whilst in the weekend it operates also for dinners. This is an opportunity for immediate employment.
Accounts Payroll Clerk Wanted
One of our clients in the hospitality industry is looking for an accounts/Payroll
He/she will assist and report directly to the Financial Controller.
He/she should be able to
1. Reconciliation, control and custody of daily cash receipts
2. Reconciliation and control of bank deposits
3. Maintenance and reconciliation of Sales and Purchases Ledgers
4. Maintenance of General Ledger up to Trial Balance stage
5. Bank account reconciliations
6. Maintenance of varied Excel reports for internal management scrutiny and analysis
7. Maintenance of Dakar Payroll System including Time & Attendance System
The ideal Applicant should also :
1. Be fluent in spoken and written English and Maltese
2. Have a minimum qualification of Advanced Level in Accounting
3. Have sound knowledge on the use of Microsoft Excel & Word
4. Be smart, accurate, discrete and be able to multi-task
5. Be able to assert authority commensurate with the post regarding the adherence to internal financial controls
6. Preferably have experience in Sage Accounting Package and Dakar Payroll
7. Preferably have experience in the Hotel Industry
If interested kindly send your cv in strict confidence to charles@mhcsmalta by not later than 28.6.19 quoting ref PAC1
Chef De Cuisine
Are you living in Malta and looking for a job?
One of our estimate clients in Gozo is looking to recruit a Chef de Cusine.
He /she will take over the preparations of this busy Kitchen and oversee the operations of the restaurant .
The ideal candidate should have had experience in a busy kitchen and is able to control and be part of the team. He/she should be proud of their work and very imaginative in producing innovative dishes.
Salary negotiable
If interested kindly send your cv to [email protected] by not later than 4.12.17